X
Looks like you are a new visitor to this site. Hello!
Welcome to Hope For Film! Come participate in the discussion, and I encourage you to enter your email address in the sidebar and subscribe. It's free! And easy! If you have any suggestions on how to improve this website or suggestions for topics please don't hesitate to write in to any of the blogs.
You can also follow me on Twitter or Facebook.
(If you keep getting this message, you probably have cookies turned off.)
I hope film fans everywhere find my book and dig it.  It is so hard to get the word out that I am particularly grateful whenever anyone writes something good about the book.  Evidently it makes a huge difference when someone posts a five-star Amazon review.  Hopefully those of you who read this blog and recognize how much effort has gone into it over the years, might just want to return the favor and post such a review.  Or even better yet, start a blog and post the review there too.
This week brought me some pleasure when two friends who have blogs posted their review. [...]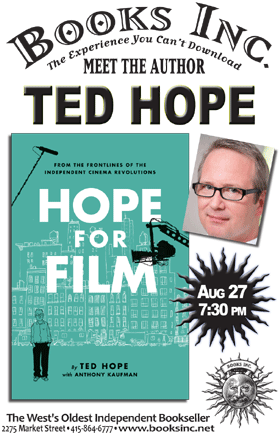 I hope we never run out of things that we get to do for the first time. Even more, I hope each of them is as exciting as this next one will be for me. I have never given a bookstore reading before, but I am going to do one very soon.
That's why I write now: to invite you to the first bookstore reading of my first book.  It will be on Wednesday, August 27th at 730 PM at Books, Inc. in San Francisco at 2275 Market Street.
I must confess: I am a tad nervous. [...]
Wow. The "lost" episode of WAY USA (Niagra Falls), directed by Peter Lauer, starring Tesco Vee, was one of my first productions ever. Hopefully one day that tape will also surface, but it is great to see the first episode of the show itself has returned to pop history, and even better to be elevated into the realm of "the greatest cult video you've probably never seen".  I have long been a fan of Dangerous Minds, but now I am even more so for sourcing this and bringing it to our attention. 
http://dangerousminds.net/comments/way_usa_sleazy_punk_comedy_travelogue_is_the_greatest_cult_video_youve_prob
The director Peter Lauer was in an incredible batch of original MTV interns that graduated into the director class the subsequent year.  If my memory serves it included Mark Pellington, Ted Demme, John Polson and others.  I think my first production with Peter was the "Run's House" video for MTV.  In those days, in addition to producing, I  also AD'd the shoot. Peter's concept for the video was to create riots wherever we filmed. I believe we closed down both 125th street and Times Square on the shoot. If memory serves me, if you look closely you can find the 24 year old me caught on camera (kinda akin to a similar moment I have in Jem Cohen's Fugazi doc INSTRUMENT), but to tell the truth, I can't find me in when I look through it now.
RUN-DMC – Run's House from Arvoredo on Vimeo.
I did a couple of videos with Peter, including Rob Base's "It Takes Two". I remember doing MTV spots with him and some of the original VJ's, like Alan Hunter.  We never did get to make a movie though. In the universe where everything goes as I want, WAY USA would have been a huge hit and an ongoing show, as big as RUN DMC perhaps.  But it is a joy for me to go back now.
 It was a rare opportunity.  And virtually everything went right.  True, the gunk we used to make the icicles (a mix of hair product and other fine elixirs) did not come off trains so easily.  And yes, it was before they had invented texture mapping software so a few CGI additions of snow cost way too much.  But  I was very fortunate to get to produce Ang Lee's THE ICE STORM.  It's great to see that Criterion is now putting some of the video extras up on the net.
We hired Mark Friedberg as our production designer.  Mark was just starting out then.  We were impressed with the western town he had done for THE BALLAD OF LITTLE JO.  He had been the art director on the first Good Machine production, Claire Denis' short KEEP IT FOR YOURSELF.  His work was good but mostly we hired him because he was someone we felt we could trust — and he could communicate very well.  In many ways, he and I had come up together.  We both had been canvassers for MassPIRG back when, and some of our production philosophy had been shaped by that experience.  His first Production Design credit was for a comedy compilation film I production managed.  Whether we were going to succeed or fail with THE ICE STORM, I did not know, but either way I wanted some friends around me that I could trust.
As this video clearly demonstrates, Mark was the right person for the job.  For this video, he speaks quite well about the intent behind the selection of the locations.  When your budget is tight, locations are perhaps the biggest choice the Designer makes.  It always frustrates me if people take those chases lightly.
I am hoping the entire universe shows up for CHINA IN THREE WORDS at the Palm Springs International ShortFest on Saturday, June 22nd at 1030A for "This Just In", a collection of six short films ripped from the world headlines of social change.  China, Japan, Korea, Syria, & the USA are all featured in the program.  The whole festival looks to be pretty amazing.  You better order your tickets now.
Not only did Vanessa direct and produce this short, but I had the pleasure of being the Executive Producer.  The short is part of Vanessa's much larger storyworld project on [...]
This is the reel that has been used to introduce me to my new community. Many thanks to the Filmmakers Alliance who did the first pass on it back in 2009. Still refining, but….Tweet