X
Looks like you are a new visitor to this site. Hello!
Welcome to Hope For Film! Come participate in the discussion, and I encourage you to enter your email address in the sidebar and subscribe. It's free! And easy! If you have any suggestions on how to improve this website or suggestions for topics please don't hesitate to write in to any of the blogs.
You can also follow me on Twitter or Facebook.
(If you keep getting this message, you probably have cookies turned off.)
Maybe the grass is always greener, but lately that other side of the entertainment industry has been looking all sparkly and bright to me.  
Okay, pushing the boulder up the hill is such an exhausting task, your mind can't help but wander and consider maybe there are some upsides to letting it all crash and burn and then starting over.  What happened when the music business flamed out? They didn't die. Have they risen from the ashes, stronger and wiser, with new tools in their belt, a commitment to get it right this time? [...]
Less than 30% of all speaking characters in the 100 top-grossing films are female. "If filmmakers just added five female speaking characters to their current slate of projects (without taking away or changing any of the male characters) and repeated the process for four years, we would be at parity."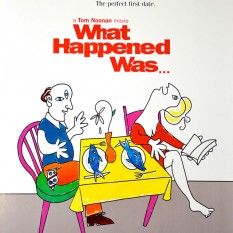 Recently Jon Brooks at KQED wrote up a very nice piece on Tom Noonan's WHAT HAPPENED WAS (1994). That film won multiple awards at Sundance but barely go seen.  Unfortunately it does not sleep alone in my bed of barely seen almost-masterpieces.  As strong as my track record may be, it still holds some flops, misfires, and damn bad luck […]
Yup.  I will tell some great tales, read a few passages, answer a lot of questions, and distribute some free gifts.  All this and more this Friday evening.  At Book Soup. 7p.  8818 Sunset Blvd.  See you there!
I have great HOPE for what is happening right now in the film business.  I recently wrote about it for The Hollywood Reporter. Check it out here.
It's Buster's birthday.  Celebrate it with this: