X
Looks like you are a new visitor to this site. Hello!
Welcome to Hope For Film! Come participate in the discussion, and I encourage you to enter your email address in the sidebar and subscribe. It's free! And easy! If you have any suggestions on how to improve this website or suggestions for topics please don't hesitate to write in to any of the blogs.
You can also follow me on Twitter or Facebook.
(If you keep getting this message, you probably have cookies turned off.)
If The Art Of The Samurai Is Not Having To Draw One's Sword…
By Ted Hope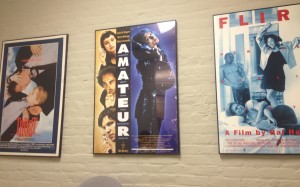 Gary Meyer's blog EatDrinkFilms captures three of life's great pleasures in a single dose. I am very pleased to have one of my favorite tales from my book excerpted there now.
Picture this: it is the first film you've financed yourself. You and your team are in a foreign land. Your money has been cut off and your financier picks you up, refusing to speak, and takes you up into the mountains where you are required to disrobe.
"One trait that helps producers is an imagination that can take you to the worst-case scenario, so that you can guard against it. I am prone to many dark thoughts, but I hadn't anticipated this."
Read the excerpt here.