X
Looks like you are a new visitor to this site. Hello!
Welcome to Hope For Film! Come participate in the discussion, and I encourage you to enter your email address in the sidebar and subscribe. It's free! And easy! If you have any suggestions on how to improve this website or suggestions for topics please don't hesitate to write in to any of the blogs.
You can also follow me on Twitter or Facebook.
(If you keep getting this message, you probably have cookies turned off.)
My Greatest Films That No One Has Ever Seen
By Ted Hope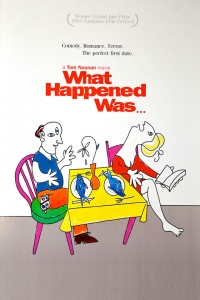 Recently Jon Brooks at KQED wrote up a very nice piece on Tom Noonan's WHAT HAPPENED WAS (1994). That film won multiple awards at Sundance but barely go seen.  Unfortunately it does not sleep alone in my bed of barely seen almost-masterpieces.  As strong as my track record may be, it still holds some flops, misfires, and damn bad luck experiences. It's great that Tom's flick may get some of the love it so richly deserves, albeit twenty years after it's debut.
On my pleasure planet, Frank Grow's revolutionary LOVE GOD (1997) would have turned our business on its head.  LOVE GOD may well have been the first film shot on video and transferred to film.  We got funding and support from Sony and Apple to do just that.  It premiered in Sundance's midnight section and we had a few knocks from distributors but they felt that as much as they thought the punk rock skater monster phreaks would flip for it, they lamented there wasn't going to be a regular supply of such morsels to feed the machine once they built it.  Maybe that was a polite kiss off, but we bought it. Two of our financiers ended up in jail. It was that kind of movie.  My whole life I had dreamed of making a psychotronic hallucinogenic monster fuck film and by golly Frank had one in him.  We screened a promo at the Gotham Awards the year that James Schamus and I were honored. It was also the year of The Ice Storm and I think everyone was expecting something a bit more prestigious. We went into giggle fits.  Recently a fan cut together this sweet music video in tribute to the film:
Maybe the tide is rising.  Maybe the public will demand it. Maybe one day Love God shall rise again.  You can watch the full feature here.
Another tragedy in my legacy is Hannah Weyer's ARRESTING GENA (1997).  It is a beautiful film.  It too went to Sundance, although this time it was in competition. Hannah had made one of the best short films ever in THE SALESMAN AND OTHER ADVENTURES previously.  Her feature was equally ambitious. She took real risks with the narrative and reached high.  Although she may not have hit them all, you can't tell from watching the film, which I found spellbinding, haunting, and wonderfully sad.  We had an incredible cast that back then no one knew of, including Summer Phoenix, Sam Rockwell, Adrian Grenier, Paul Giamatti, Selma Blair, and Kirk Acevedo to name a few. The distribution world was already changing then, growing less tolerant of ambiguous work and options were limited. It basically disappeared, unable to fund the color correct.
What a bummer it is for these films and filmmakers. If they had been made twenty years later, the tools would have then existed to help them find their audiences. Sure they would have had to compete with far more films than they did in their day.  But each one ambitious, fresh, and distinct.  They distinguished themselves in the marketplace and still would have today.  What would have been truly great though, is that I think each director would have popped more, and gotten the notice they deserved.  Although each went on to make interesting work in a variety of ways, I think the industry would have been able to find them and help them more today than it could have back twenty years ago when they needed it most.  
As hard as it is today, I think the opportunities are better than they have ever been. I wish these films were all debuting this year at Sundance.